By Shykeia Spinks
WASHINGTON, DC ⎼ According to 10,630 DC residents, it's time to pass the Clean Energy DC Act. Many of them turned out yesterday, along with the Chesapeake Climate Action Network (CCAN), to decorate the halls of the Council with signed petitions as well as hand deliver them to council members.
CCAN kicked the day off by stringing more than 10,000 signed petitions together in a blue and green banner. Residents then, stood side by side with it to span the width of the first floor of the Council building. Together, they "drew the line" for climate action.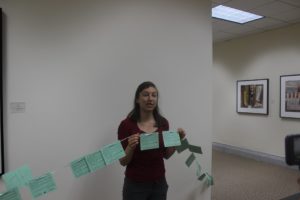 The inspirational event ended with DC residents going office by office with a simple message "The climate can't wait, and neither can we." Years of progress calls for a strong and equitable climate and clean energy policy right here in DC.
If you are a DC resident, you can lend your voice to the cause. "Send a message to your council members", said Camila Thorndike, DC Campaign Director at the CCAN Action Fund.
"This needs to pass out of Councilmember McDuffie's committee by November 28, if it's then going to go to the committee of the whole for the two votes that it will need to become alive this year."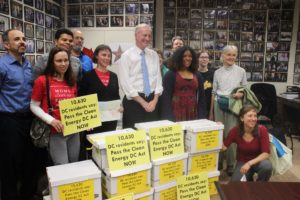 Passing the Clean Energy Omnibus Amendment Act of 2018 puts DC economically and financially forward. Click HERE to send a message to your Councilmembers asking them to pass it today!
Click HERE to relive the excitement of the day and see a video of the historical petition drop!