Faces of the Campaign is an ongoing series featuring our key organizers and stakeholders involved in "Put A Price On It, D.C." Our coalition of 70 organizations is comprised of racial justice activists, union workers, health advocates, moms, dads, kids, retirees, and business-owners alike. Kyle Legacion is a summer intern working on the campaign. Here's his story.
What is your name and what do you do?
My name is Kyle Legacion. I'm a rising senior at the University of Minnesota / Guthrie Theater BFA Actor Training Program, pursuing a minor in Sustainability Studies. Here at CCAN, I'm interning on the DC Carbon Pricing Campaign.
What woke you up to the climate crisis?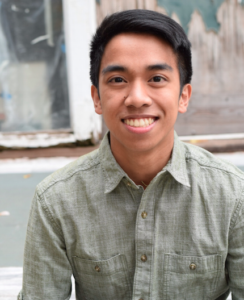 I moved around a lot growing up. I was born in Southern California, raised in the San Francisco Bay Area, moved to Houston, TX after my sophomore year of high school, and then ended up in Minneapolis, MN for my undergrad. I spent last fall studying abroad in London. This was around the same time that Hurricane Harvey swept Houston with historic flooding, and that major wildfires were raging through California.
All of these places I've called home were being attacked by extreme weather events because of climate change, and there I was in London, thousands of miles away, unable to do anything about it. I remember reading all of these headlines and seeing pictures of the destruction and feeling completely, utterly helpless.
That was when I vowed I'd never stand idly by in the climate crisis again.
Why does the campaign to put a price on carbon in DC and rebate the revenue matter to you?
I believe that a carbon pricing policy is one of the most effective ways to combat climate change. If we want to achieve anything meaningful in the fight against climate change, then we must change the rules that the biggest climate offenders are playing within. The campaign is important to me because a carbon fee-and-rebate policy would do exactly that, while also uplifting the communities that have been hit the hardest by the effects of climate change.
How is this campaign different from other environmental campaigns you've experienced in the past?
The only other environmental campaign I've participated in was for my Natural Resource & Environmental Policy class I took this past spring, where I spent the semester working on a group project to implement organics recycling at a local business. This campaign is working at a much larger scale, with impacts that would be far-reaching.
How has climate change impacted your own community?
Like I mentioned above, climate change has caused severe weather events to hit many of the places I've lived before, uprooting many families and destroying many homes.
What was your favorite moment in this campaign?
So far, my favorite moment in the campaign has been the press conference we held outside of the Councilmembers' offices. We had over 100 supporters in attendance, and even performed a literature drop afterwards.
It was a really cool experience seeing different parts of the community come together in support of the campaign, and visiting all of the Councilmember's offices to talk about the campaign
Tell me about a time you've witnessed community power.
I would say that the press conference was a time I've witnessed community power. We had a diverse group of representatives speak about why a carbon fee-and-rebate policy is needed now, and it was a powerful moment to see these people speak from their heart about their experiences with climate change.
What was your biggest accomplishment on this campaign?
So far, I would say it's been bird-dogging Councilmember Elissa Silverman.
One word summing up your experience with this campaign:
Meaningful
If you could tame a wild animal to do your bidding, what would it be?
A fox!