Faces of the Campaign is an ongoing series featuring our key organizers and stakeholders involved in "Put A Price On It, D.C." Our coalition of 80+ organizations is comprised of racial justice activists, union workers, health advocates, moms, dads, kids, retirees, and business-owners alike. Veronica Robb is a summer intern working on the campaign. Here's her story.
What is your name and what do you do?
My name is Veronica and I am an intern at CCAN on the DC carbon pricing campaign.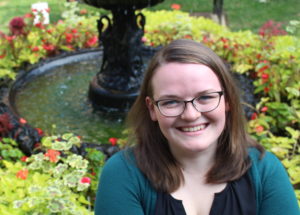 What woke you up to the climate crisis?
I grew up in Maryland where we aren't strangers to hot summers, but it seemed like every year I would hear that it was "The hottest summer on record." We seemed to be breaking our record every single year, andI wanted to do what I could to help combat extreme weather like this before our environment becomes uninhabitable.
Why does the campaign to put a price on carbon in DC and rebate the revenue matter to you?
I have many friends with asthma so air quality has always been a relevant issue for me, and this seems like the best way to combat large-scale pollution. It's so rewarding working on a campaign like this. I feel like I'm really helping make an impact on our environmental future.
How is this campaign different from other environmental campaigns you've experienced in the past?
This is actually the first environmental campaign I've worked on.
How has climate change impacted your own community?
The preservation of the Chesapeake Bay has always been discussed throughout my life, and pollution and extreme weather have hurt the watershed tremendously. While the Bay is doing better than it has in the past, we have a long way to go before it is truly healthy. Legislation like a carbon fee and rebate program would help lessen pollution on the East Coast.
What was your favorite moment in this campaign?
My favorite moment so far was tabling at the Kennedy Street Festival. I just really enjoyed engaging with the community. It's really nice to see people interested in our policy.
Tell me about a time you've witnessed community power.
When we held the press conference and then did the deliveries to the Council Members, it gave me a lot of hope to see how many people showed up and are willing to fight for the betterment of their community.
What was your biggest accomplishment on this campaign?
My biggest accomplishment has probably been petitioning. I've never worked on a campaign before and I have enjoyed so much of it. I love going into the community and discussing the policy with people and engaging in a meaningful dialogue about the steps we as a community need to take to create a healthier planet.
One word summing up your experience with this campaign:
Empowering
If you could tame a wild animal to do your bidding, what would it be?
I would tame an owl. I grew up loving Harry Potter, and even if my owl didn't deliver mail, it would be cool to have a bird buddy like Hedwig.