Written by Chelsea Hodgkins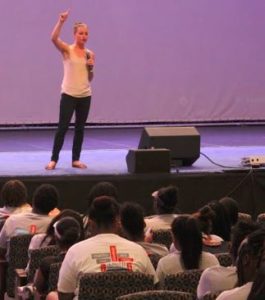 Last Friday, August 17, 2018, more than a thousand Howard University students engaged in community service with organizations across DC for the university's annual service day. CCAN partnered with a large group of students to build momentum for the Clean Energy DC Act of 2018.
As the Field Manager for CCAN, I was thrilled for the opportunity to engage youth — our next generation of leaders — in advocacy generally and in building support for clean energy in the District specifically. After I taught students about the bill, they spent the day hanging fliers to educate the public, tweeting the bill to the Council, and petitioning to collect signatures of support.
In just two hours, Howard students and volunteers hung more than 1,300 fliers across the District and gathered signed petitions of more than 250 residents backing clean energy! Organizations like Neighborhood Sun, NAACP's Environmental and Climate Justice Program, and more also joined students in tweeting to the Council.
This is only the beginning of actions and activities by CCAN and the DC Climate Coalition to advance advocacy for the Clean Energy DC Act. If passed, this bill will , reduce emissions from buildings and vehicles, increase funding for local sustainability programs, and transition DC to 100% renewable energy by 2032, making the District a nationwide leader in clean energy policy.
The Clean Energy DC Act of 2018 was introduced by Councilmember Mary Cheh on July 10, 2018. The bill is backed by seven Councilmembers and the 98 organizations in the DC Climate Coalition, representing faith groups; economic, environmental, and social justice organizations; businesses; and more. A Council testimonial hearing has been tentatively scheduled for September 24th.
We are building the movement to get this bill passed. Join us. Sign up to testify in favor of the Clean Energy DC Act here. Share this with your friends by clicking here
Contact DC organizer, Chelsea Hodgkins, chelseah@chesapeakeclimate.org for more information and to get involved.