Candidate Responses on Carbon Fee and Rebate
DC for Democracy recently asked a wide range of questions to candidates about their stances on various policies. (The full questionnaire can be found here). One of the questions was this: "What is your position on the Carbon Fee Rebate proposal?" Here's what they had to say:
---
Council Chair
Calvin Gurley— Accountant and auditor, served as a member of a mayoral commission on public housing
How can one measure it? The past practice of the Council under the current Chair is to
rob and ponder agencies' funds. For example, the Council emptied the entire set aside
$18 million from the Housing Production Trust Fund. And after public outrage, the
council appropriated the $18 million back into the trust fund the next year. I don't trust
the current Council to allow this rebate to filter down to the residents.
Ed Lazere— Executive Director at D.C Fiscal Policy Institute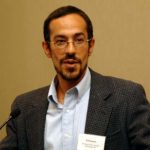 I have supported the DC Carbon Fee Rebate proposal because it is an opportunity to promote environmental, economic and racial justice at the same time. In the absence of federal action on global climate change, states and cities should step in to make a difference. The proposal to put a fee-per-ton on carbon and rebating the proceeds to residents is supported by prominent economists, both liberal and conservative, and environmental experts, as a market-driven way to reduce carbon consumption by encouraging energy conservation and use of renewable energy sources. The Carbon Fee Rebate proposal would rebate the proceeds of the carbon fee to DC residents on a per-capita basis. Analysis shows that for the vast majority of lower income families, the rebate will be larger than their increased energy costs. This means the proposal not only ensures that families with low incomes are not burdened by a carbon fee, but in fact will provide an income boost to these families and reduce income inequality. This proposal is an important way to promote environmental and economic justice at the same time.
Phil Mendelson— Council chairman since 2012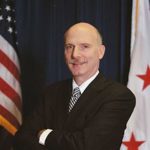 I support the proposal that a fee be imposed per ton of carbon emissions to incentivize use of renewable energy sources. In that regard, I was the author of legislation that established a renewable energy portfolio standard for electric generation — that was our first effort at promoting renewables (which are carbon free). I have given advice to the advocates for the carbon bill on how I think they can get a carbon tax adopted as law.
---
Ward 1
Kent Boese— D.C law librarian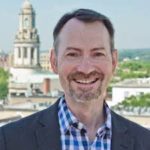 I fully support the Climate and Community Reinvestment Act. The proposal requires fossil fuel companies doing business in the District to pay a fee for every ton of carbon dioxide they put into the atmosphere. The policy would then rebate the overwhelming share of the collected revenue to D.C. households and small businesses such as those in Ward 1. As the Ward 1 Council member, one of the things I would look for in any legislation is how it impacts and benefits residents and businesses in my community. I am impressed by the thoughtfulness of the Climate and Community Reinvestment Act. What is compelling to me is that Ward 1 businesses such as Cork and Pleasant Pops are behind this bill – great local businesses with engaged owners who understand what it takes to thrive in D.C. while serving as a community partner.
Brianne Nadeau— Ward 1 Council member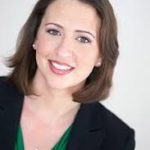 I support this proposal and have been eagerly awaiting a draft bill to which I will proudly add my name. I've been talking with advocates about this idea for the past several years and I'm eager to moving it forward. I served as the chair of the Local Government Advisory Committee to the Chesapeake Bay Council as well as chair of the Metro Washington Air Quality board to COG. I do this work because climate change is already impacting our world and we have a responsibility to do all we can to impact the behavior of our residents to help protect our environment.
Lori Parker— Former magistrate judge in D.C Superior Court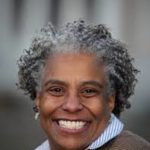 I support the Carbon Fee and Rebate proposal.
---
Ward 5
Bradley Thomas— D.C Civil Litigation and Entertainment Lawyer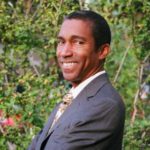 I am definitely in support of carbon fee rebates. For the last five years, I have been a student at the Harvard University Extension School working towards a masters in Sustainability and Environmental Management. I understand, probably better than anyone currently serving on the Council, that we must take dramatic and comprehensive action to reduce greenhouse gases or we are going to literally cook the planet. Some years ago, an organization was formed taking the name 350.org. The name was chosen based of studies that indicated that the maximum safe level of carbon dioxide in the Earth's atmosphere would be 350 parts per million (ppm). In a few short years, we passed right through that level. Today, in February 2018, it is estimated that we have reached a CO2 level of 408 ppm. What does that mean in terms of climate change? Think about this: Globally, seventeen of the eighteen hottest years on record have occurred in this century, those years being 2001 through 2017. The other hottest year on record was 1998.
The polar ice caps are melting at an alarming rate. That means that sea level is rising. Rising sea level threatens coastal cities and poor island nations. In addition, trapped under the permafrost in Greenland and Antarctica and deep under the ocean floor, are vast quantities of methane, a greenhouse gas that is 30 times more heat trapping than CO2. Once the oceans warm to a certain level, and that methane is released into the atmosphere, we will be at the point of no return, the point from which there will be nothing we can do to halt the destruction of life on this planet as we know it. What does all of that have to do with our local political decisions? Everything. D.C. is on planet Earth and we are global citizens.
On a related front, I am also in favor of banning gas powered leaf blowers, another small but not insignificant source of CO2. Councilmember Cheh has introduced a bill before the Council which calls for the banning of the sale and use of gasoline powered leaf blowers in the District of Columbia effective January 1, 2022., I believe that legislation make sense and I am currently in the process of persuading ANC5E to pass a resolution in support of it. It's one small step but every step is important.
---
Ward 6
Charles Allen— Ward 6 Council member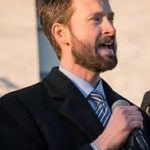 I was one of the earliest supporters of the Put A Price On It campaign to place a fee on carbon producers, which would also provide a rebate to vulnerable residents. This campaign is part of creating a more sustainable DC. In addition to this effort, I authored the legislation creating the District's first Climate Change and Resiliency Commission; I led the fight to have the District's retirement and pension funds divest from carbon and fossil fuel investment holdings; I wrote several bills to expand opportunities for solar installation; and I led the effort to name 2018 as the Year of the Anacostia River to celebrate and bring attention to the river on the eastern half of our city.
Lisa Hunter— D.C Healthcare activist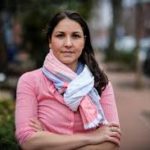 I support this proposal. I am very familiar with policies related to carbon taxes and rebates, having worked on Capitol Hill during the congressional debate of similar federal policy almost a decade ago. Policies that incentivize a shift to green energy and reduce our city's emissions are becoming increasingly important, and policies that incentivize change by investing funds in our own communities are the optimal way to produce these results. It is also important that we pursue clean energy policy without unduly burdening low income residents who cannot afford to upgrade their homes or modify their energy source with efficiency in mind. To that end, as fees on distribution companies are increased and those costs are passed onto consumers, I would seek to revisit the percentage of carbon rebates going to our low-income residents, currently set at 15 percent. This policy is estimated to increase residential power bills by an average of $9/ month, and while that should be offset by rebates, it is an increase that could be debilitating for families who struggle to pay their bills on a month-to-month basis. We need to make sure the rebate system is designed in such a way that we are proactively insulating low-income residents from price spikes they cannot afford, particularly since they may experience these financial pressures prior to receiving rebates. I would also revise the eligibility requirements for low-income residents. I am not comfortable with requiring residents to have a photo ID or driver's license in order to be eligible for rebates, since these requirements would inherently exclude the most vulnerable populations in our city who will depend on access to these rebates most. Presumptive eligibility would protect low-income residents from being excluded from this rebate program.
---
At-Large
Anita Bonds— At-Large Council member since 2012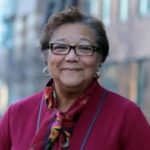 In principle, I support putting a price on carbon emissions, and privatizing that cost to encourage the use of greener energy sources and to generally lower our collective energy consumption. This is important not only because it is good for the environment, but because it makes the District the kind of ethical place where people will want to live and raise a family as the Earth's environmental crisis reaches a critical point.
Moreover, the proposal to return this tax to District residents vis periodic rebate checks would be a wonderful thing for District residents, provided that residents who use a reasonable amount of carbon-emitting energy over a period of time are able to recoup the fees they paid. This is especially important for seniors, who are less physically and financially able to radically alter their day-to-day activities to decrease their personal carbon footprints.
It is my understanding that the proposal that will come before the Council accommodates these concerns and will benefit the average District resident. As long as I and my colleagues can ensure this is the case as the legislation moves forward, then I will be in support
Marcus Goodwin— D.C Real-estate professional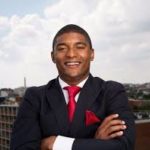 The Carbon Fee Rebate proposal is a brilliant way to ensure that we are good stewards of our environment and that's both cost effective and practical. My father has been an environmental scientist focused on our water-ways for the past 30 years. We are sufferers of a large carbon footprint because of our high proportion of out of town commuters. I would take it a step further and seek ways to tax vehicle commuters from Maryland and Virginia for their carbon impacts on our city.
Aaron Holmes— D.C social justice activist
I support market driven solutions to deal with rising environmental concerns. The proposed rebate incentivizes more sustainable options while relieving economic pressure on thousands of residents who are struggling to make ends meet.
Jeremiah Lowery– Works for food equity police, environmental justice, early childhood education and community empowerment
I support and campaigned for it. Down the road we should look-into using a percentage of the money to create a public utility system run on 100 percent clean energy. Putting a fee on the carbon is good, but we must now look to transitioning to a new system.