Faces of the Campaign is an ongoing series featuring our key organizers and stakeholders involved in "Put A Price On It, D.C." Our coalition of nearly 50 organizations is comprised of racial justice activists, union workers, health advocates, moms, dads, kids, retirees, and business-owners alike. Rachel Martin was a carbon pricing organizer for the campaign with the CCAN Action Fund and continues to volunteer.  Here's her story.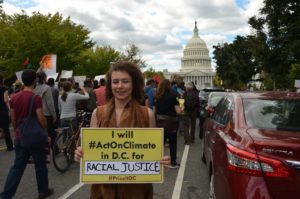 What woke you up to the climate crisis?
I'm not sure that there's a specific moment, but I've always cared for the environment and our natural world. Melting polar ice caps, rising sea levels, erratic weather patterns, and the decrease in biodiversity are definitely some of the most noticeable impacts.
How has climate change impacted your own community? 
We're definitely seeing rising sea levels and strange weather in the Chesapeake region. We're seeing species like salamanders facing endangerment due to the slight increase in temperature. Soon, rising sea levels will force people to relocate, and temperature increases will cause dangerous heat waves.
Why does the campaign to put a price on carbon in DC and rebate the revenue matter to you?
This campaign matters in so many ways. It's not only a way to reduce the carbon in our atmosphere–it's a market-based mechanism of corporate accountability. By having to pay the price for their emissions, corporations that use fossil fuels can see monetarily the harm they cause from pollution and find ways to reduce it. And, because there's revenue generated from that price, it has an amazing capacity to give back to our community and to be equitable for our most vulnerable residents.
How is this campaign different from other environmental campaigns you've experienced in the past?
This campaign is pretty different from other campaigns because rather than advocating for a ban or regulation, we're asking to introduce an innovative policy that would drastically change the city, economically, environmentally, and ideologically. It's challenging, but also very exciting!
What was your favorite moment in this campaign?
I don't have a single favorite moment, but my favorite moments are always having the opportunity to share the campaign and the concept of carbon pricing with new people every day. I've had so many amazing conversations with so many different people from all walks of life who are excited and inspired by this revolutionary idea, and hope that it will make the necessary impact to mitigate climate change.
Tell me about a time you've witnessed community power.
Most recently, the Women's March, People's Climate March, and the March for Racial Justice were amazing displays of community power. It's so moving to see thousands of people come together to fight for meaningful change.
What was your biggest accomplishment on this campaign?
My biggest accomplishment was being able to see all of our hard work over the past year really pay off: seeing our coalition double and triple in size; the huge box of petitions countless volunteers, interns, and myself have collected; councilmembers slowly but surely warm up to the campaign. It's all thanks to our amazing grassroots base!
What is your favorite go-to restaurant in DC? 
My favorite place to get comfort food in DC is definitely Thai X-ing.
One word summing up your experience with this campaign:
Rewarding!