Faces of the Campaign is an ongoing series featuring our key organizers and stakeholders involved in "Put A Price On It, D.C." Our coalition of nearly 50 organizations is comprised of racial justice activists, union workers, health advocates, moms, dads, kids, retirees, and business-owners alike. Mark Rakhmilevich, Member Services Assistant with Green America, is a key organizer with the campaign.  Here's his story.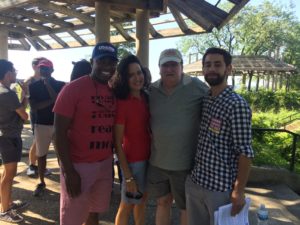 What woke you up to the climate crisis?
I really began to care about climate change, for one, when I started to see winters get shorter. As a season pass holder at Tyrol Basin, my local ski resort, seemed like I'd have fewer weekends each seasons to go snowboarding. But two, from my experience working with AmeriCorps VISTA in Hazleton, PA where I served, I immediately saw the need to move off of fossil fuels, and coal specifically, as an energy source given its devastating effects on the health of the community and on wildlife. From there I became interested in the overarching issue of climate change and was determined to get involved to make local policy changes to reduce our emissions through clean energy innovation.
How has climate change impacted your own community? 
Climate change has been a challenge on native Wisconsin ecosystems. From my time working on conservation projects for WE Badger Volunteers especially as a student in the Madison-area, it has definitely impacted the region by decreasing yields of feed crops for dairy farmers because of longer droughts leading to poor soil conditions, but also trended in the direction of further deforestation and declining populations of native species.
Why does the campaign to put a price on carbon in DC matter to you?
I think it's crucial to fight climate change now and grow clean energy markets. Our window of opportunity to act is closing fast, and really, as one of the top polluting nations, we owe it to those disadvantaged communities in developing countries who suffer most. The campaign to "Put A Price On It, DC" can serve as the progressive model to be used abroad, and lower our carbon emissions while also reinvesting in our communities.
How is this campaign different from other environmental campaigns you've experienced in the past?
My involvement in this campaign is really more holistic because I've worked to gain stakeholder support in a number of different sectors such as businesses and policymakers, whereas in the past I would only be involved on a very grassroots level, talking to residents at their door or at community events.
What was your biggest accomplishment on this campaign?
Growing support from the local business community. I helped host a webinar and business roundtable in partnership with American Sustainable Business Council about this campaign, where businesses had the opportunity to make their voices heard and sign on to this campaign.
Tell me about a time you've witnessed community power. 
The People's Climate March was an amazing display of community power. There were so many committed friends and allies from organizations all across the board all working together in a grand coalition to step in where this administration won't, and make common sense changes to our laws to favor the interests of the people over the greed of the fossil fuel industry.
If you could tame a wild animal to do your bidding, what would it be?

Swordfish!