"We are a city that is told what we can't do. Now we can show what we MUST do, and lead the country by example." – Councilmember David Grosso
---
By Danniele Fulmer
Wednesday was a beautiful fall morning for climate action in the District of Columbia. Ideal for a breakthrough moment in our campaign to put a price on carbon pollution.
On the steps of the D.C. Council building, we gathered with faith leaders, union members, and advocates of all kinds to rally in support of the "Put A Price On It, D.C." campaign. We were joined by Councilmembers Robert White, David Grosso, and Charles Allen; a huge turning point for our campaign, to be standing side-by-side with three Councilmembers, all joining together with nearly 150 people(!) to announce support for a carbon fee-and-rebate policy.
We had a powerhouse lineup of speakers whose energy was unparalleled, with the underlying and persistent theme of "We Can't Wait." Judith Howell, a coalition partner from 32BJ SEIU, kicked off the rally with a strong message needing to help those who have contributed the least to climate change but will suffer the most. Reverend Kip Banks, representing faith leaders across D.C. who are ready to put a price on carbon in the District, called for a carbon price as a moral solution to climate change. CCAN's own Mike Tidwell came out, leading the group in a chant of "Can't Stop, Won't Stop," to wrap up the rally. It was also particularly exciting to see the Councilmembers step up as speakers and sponsors at the rally. Relive the excitement by watching the Facebook Live feed here.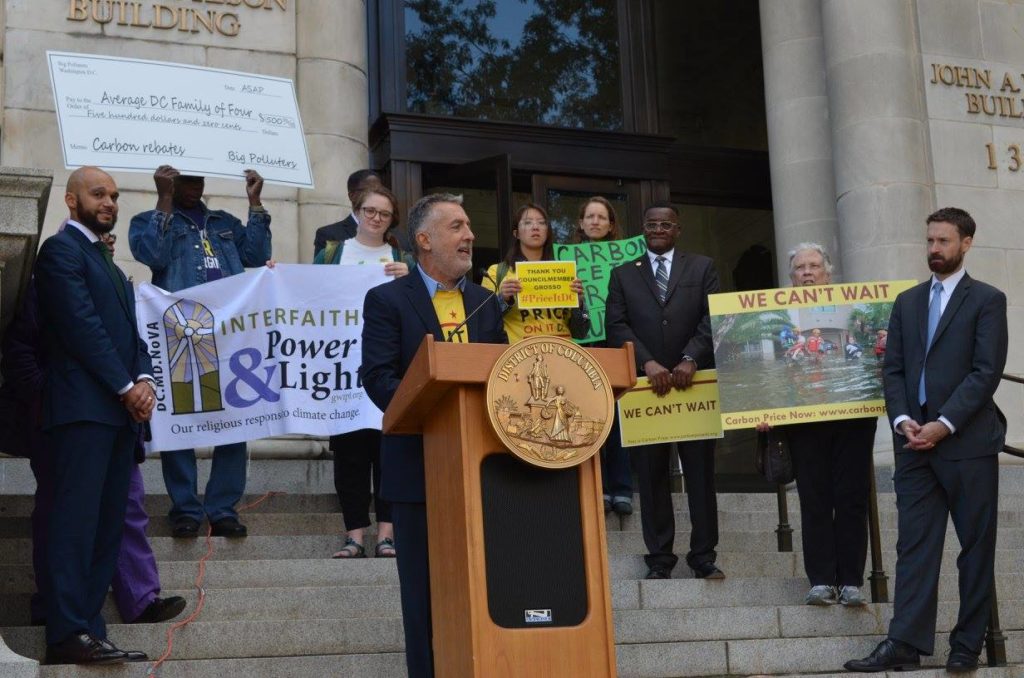 On a personal level, I was thrilled to be able to re-engage in the campaign that I had spent my whole summer advocating for as an intern. Now, in my full-time position at CCAN, it is amazing to see how the D.C. campaign has grown over the past several months.
Last week's action at the D.C. city council illuminated the strength of our coalition and the support of our citizen advocates. But we definitely have our work cut out for us in coming months. It's never been more important to get involved.
As Councilmember Robert White told the group, "The free market won't change without a little kick in the butt. We'll be that kick in the butt." D.C. can and must be the national leader on this issue.
It's time to put a price on it, because we simply can't wait.