Written by Rabbi Fred Scherlinder Dobb
Medieval Jewish mystics taught that God created the world through self-contraction, or tzimtzum. God was everywhere – but by shrinking God's self a bit, everything else could emerge. God humbled Godself.
We should follow suit. In our congregation, tomorrow's Yom Kippur message will be just that: "humble yourself."
Humility is a personal virtue, just as "Moses was most humble" (Num. 12:3). Modern leaders should try humility too! People of faith should prize humility, rather than swagger, when deciding whom to support.
We can cultivate humility, collectively: Being proud of our religion, but not believing it alone has all the answers. Being proud of our country, yet humbly considering its flaws and mis-directions.
In today's warming world, we're now also called to be humble as a species. To try to make space for the rest of life, many faithful folks have become environmental advocates. That's why I'm speaking up for this fall's DC campaign to put a price on carbon.
In synagogue tomorrow, we'll sing, "Humble yourself in sight of Creation." Humility is just what humanity needs, if we're to dodge the worst of the ecological catastrophes we now bring upon ourselves. Exhibits H through M: Harvey, Irma, Jose, Katia, Maria.
Hubris, the exact opposite of humility, is the downfall of every tragic hero – or civilization. The hubris of recent generations brought us to the brink of irrevocable climate change. Hubris lets "enlightened" folk today consume and pollute way more than our fair or sustainable share. And hubris has us wait for big techno-fixes, or for others to act first, before making the changes we know must come.
Some of those needed changes are "sacrifices." Though we're loathe to give anything up, humility calls us to sacrifice. Yes: true humility demands sacrifice. But it's worth it: sacrifice comes from sacred, in Hebrew (korban-offering from karov-draw-near) as in Latin. Sacrifice is holy! It's also a fair exchange: we give up something finite, receiving in its place something lofty and sacred. And, it's our duty.
We should sacrifice, or "give back," what isn't rightly or sustainably ours. Consider the idea of "privilege." I'm a man, socialized to take up space; the humble faithful way to "man up" is to "sacrifice" some status, so women can lead. As a white man, aware of the myriad disadvantages from which I'm exempt thanks to skin tone alone, I extend myself for racial justice, even when it's inconvenient or uncomfortable. Ditto for being straight, able-bodied, well-off, or cis-gender.
But I'm also a human – who, together with you and seven billion others, plants a most oversized footprint on our threatened blue marble home. So it's time to consider "species privilege," too.
Humans got ahead by claiming what rightly belonged to others – not just indigenous peoples, but the whole "order of Creation," comprising millions of species besides our one. We squeezed them out in the process. To restore balance, we must do teshuvah (deep repentance) – make real change – by "sacrificing" some of what we wrongly consider "ours."
Every Yom Kippur that goes by without major tzimtzum (self-contraction) by us humans puts poor people, all God's critters, and our very future at greater risk.
Economist Paul Krugman simplifies the math: climate change will lower gross global product by at least 5 percent. Stopping climate damage, by contrast, would cost only 2 percent. Two percent, so we don't destroy the biosphere – is that even a sacrifice, or a wise investment? Waiting only locks in more suffering, and harms our progeny. It's smart to act now: "Choose life," pronto, "that you and your descendants may live" (Deut. 30:19). The longer we fiddle, the hotter the future burns.
Luckily, little sacrifice is needed to get behind the #PriceItDC effort to use the free market to curb carbon pollution. Like sister initiatives elsewhere, #PriceItDC makes industrial polluters pay to emit what harms us, then rebates the money back to residents in just ways. It's our chance here in DC to model how our future economy can work, once we're all practicing proper species humility.
It brings the "externalities" of fossil fuels – like, say, reduced life expectancy for your grandkids – into the economic equation. It gives polluters monetary incentives to pollute less. It helps us become more rational economic actors, and more moral and spiritual in the process.
Please join me and my community this fall in practicing tzimtzum, the sacred lost art of humble self-contraction. Together we can make teshuvah, repentance and return to right action, not just a Yom Kippur thing, but part of our everyday lives.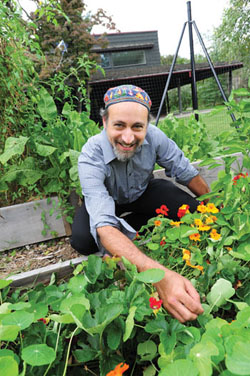 Rabbi Fred Scherlinder Dobb lives in Washington DC, where he is a DCPS Parent, past chair of Interfaith Power & Light (DC.MD.NoVA), and Rabbi of Adat Shalom Reconstructionist Congregation.